You can use your CS:GO skins or Dota 2 items to top up your Loot.bet account using the instant sell feature.
STRICTLY 18+
How it works:
Go to the deposit page and select 'Skinpay' from the list of available payment options.
Enter your Steam trade link. If you don't know it, click on 'Get it'.
If you have a bonus code, enter it in the corresponding field.
When you click 'Deposit', you will be transferred to the our partner's page. Select the items you would like to sell, make sure you are ok with the price, and accept the trade from the bot. You need to have the Steam mobile application installed to be able to trade. Your Steam inventory must be public and your Steam account must be at least Level 1 to use this feature.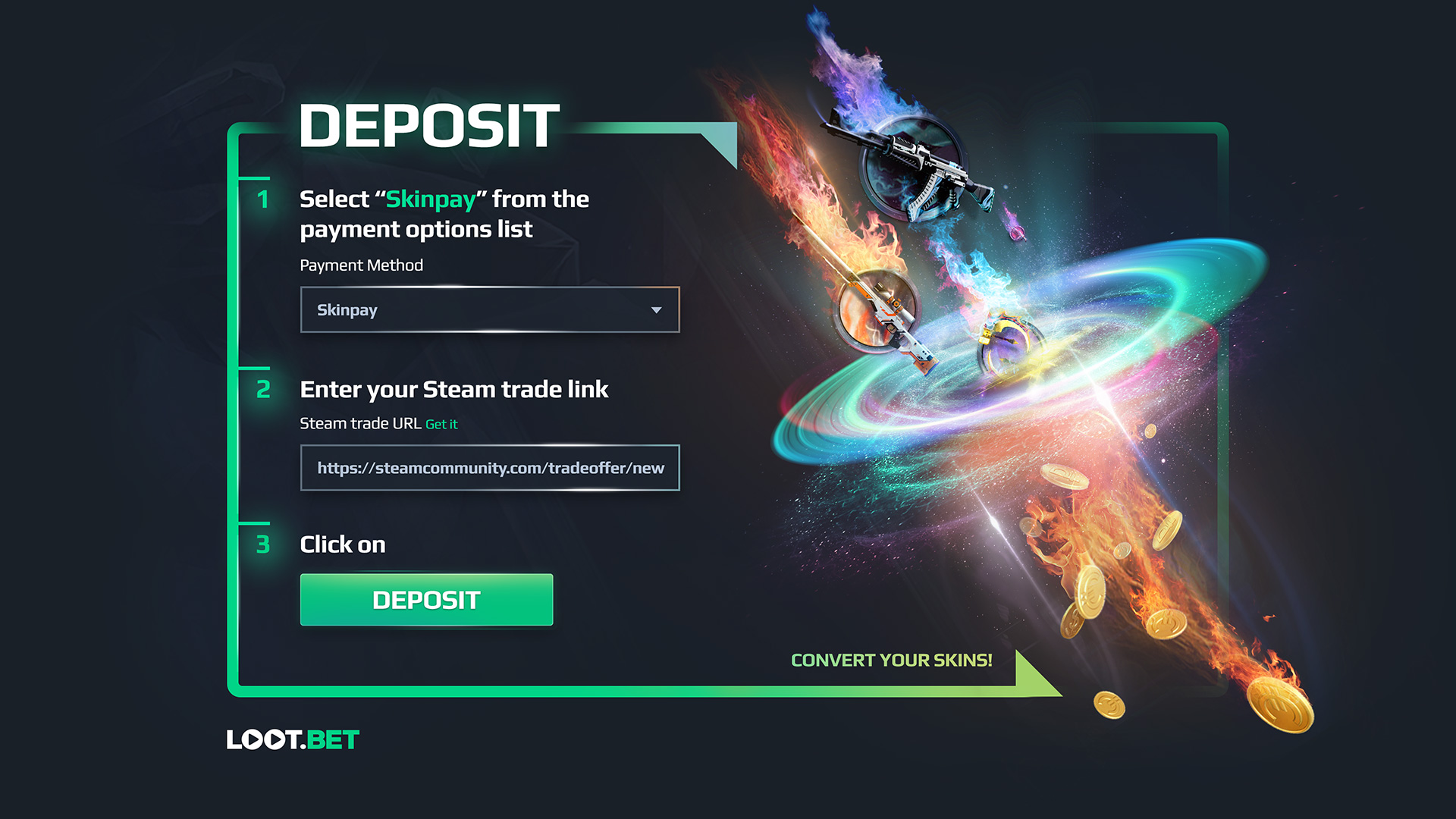 FAQ:
Do I deposit my skins directly to my Loot.bet account?
Not exactly, you instantly sell the skins to our partners, and they transfer the money to your Loot.bet account.

What are the fees for using instant sell?
In most cases, you will get 60-70% of the Steam listed price for your items. We take the hassle out of selling items in the marketplace by doing it for you for a slightly lower price than you would get selling them yourself.

Can I withdraw in skins?
When you deposit items or skins, they are instantly converted into currency and deposited to one of your fiat accounts. So you can only withdraw currency. The default withdrawal option is Skrill. If you wish to use Neteller, Yandex.Money, or Qiwi to withdraw, just let us know in our chat. You can find chat in the bottom-right corner of the screen and you must be logged in to use it.
What are the minimum amounts?
There is no minimum amount restriction for depositing with this payment method. Please note that:
most bonus codes have a minimum activation sum of €5,
The minimum bet amount for the most bets is €0.50,
The minimum withdrawal amount is €10 or equivalent in chosen currency.
Is it possible to reverse an instant sell item transaction?
All instant skin sales are final. We do not issue refunds once the instant sell transfer is completed.